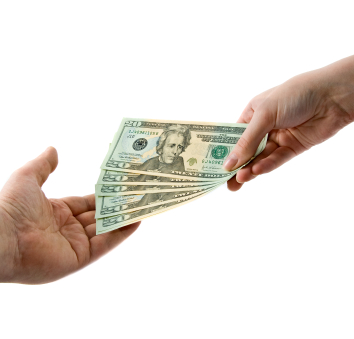 Get a Loan
Midtown Jewelry & Loans will lend you the cash you need to pay your bills, make your rent payment, or for any other reason you need a short term loan based on your items of value. The loan process is simple and usually only takes only 5 to 10 minutes.
Generally, we are able to loan you 25% of what your item, or items, are worth. The loan term is 30 days, at the end of which you pay back the loan plus 25% interest. For example, If you have an item worth $400, you can get a loan for $100. Then, within 30 days, you would pay back to $100 plus $25 in interest to get your item back, or a total of $125.
Can't pay back the loan within 30 days - no problem - just pay the interest amount, and we'll restart the 30 day period. We will hold your item for you as long as you make an interest payment every 30 days.
Some of the brands and items we loan on are:
Handbags - Coach, Gucci, Prada, Micheal Kors, etc.
Electronics - Apple products, laptops, game systems, Sony products, Microsoft, flat screen TV's, music systems, high-end car audio, cell phones, cameras, camcorders, and Blu-ray players.
Tools - Commercial grade tools, including such types as: DeWalt, Milwaukee, Hilti, Husqvarna, Makita, Paslode, Bosch, Stihl, Ryobi, Snap-on, and Mac.
Musical Instruments - Acoustic and electric guitars, drum sets and cymbals, foot pedals, banjos, saxophones, clarinets, flutes, keyboards, and microphones.
Vehicles - Cars, trucks, motorcycles, trailers, boats, etc. Vehicles must be in good cosmetic condition and in working order, under ten years old, and with a clear, open title in the owner's name. In order to make a loan on a vehicle, we need to take possession of the vehicle and title for the period of the loan.
Unfortunately, there are some items that we can't loan money on. They are:
Firearms
Title loans
Items related to pornography
Medical items or devices
We will loan on almost anything, as long as we are able to determine what the item is worth.
LEGAL: ITEMS LEFT FOR MORE THAN 60 DAYS WITHOUT PAYMENT OF MONTHLY INTEREST DUE BECOME PROPERTY OF MIDTOWN JEWELRY & LOANS, INC. ALL PAYMENTS OF PRINCIPAL MUST BE MADE IN CASH; INTEREST MAY BE PAID BY CASH OR CREDIT CARD; NO PERSONAL CHECKS ACCEPTED. ADDITIONAL TERMS AND RESTRICTIONS APPLY, SEE STORE FOR DETAILS.