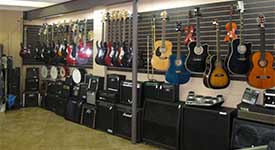 Frequently Asked Questions
We get a lot of questions about the same sorts of things, so we've done our best to answer as many of them as we can below. If you don't find the answer you're looking for, please don't hesitate to call us or visit our store.
What if I have lost or stolen items I am looking for?
Let us start by saying we are truly sorry for you having to experience a heartbreaking ordeal like a robbery or losing a family heirloom. We ourselves had our home burglarized several years ago, and it's an emotionally traumatic experience.
Unfortunately for us, when you think robbery some people naturally associate a "pawn shop" with stolen goods. In the past this may have been true, pawn shops were known to have stolen merchandise and a negative reputation. We've all seen it on TV shows, movies, the news, etc.
Pawn shops now, however, are far from what people may have imagined in the past. We are heavily regulated by the state of Florida. Every item that enters our store is logged into a computer with an identifiable description, serial number, make, and model of the item. Also, the person who is selling or getting a loan on the item must provide us with a valid ID, personal information, and a thumb print. This procedure usually causes any questionable persons to shy away from bringing stolen items into our store. In the event that it does happen, we have a 30 day hold policy for items brought in to us. This gives the police department time to research any items that may have been reported stolen and meet with you to come by our store to identify your belongings. We send our reports daily. Please understand that, although we are here to help you retrieve your merchandise, we are bound by privacy laws - meaning that we cannot tell you if your item is in our store, or if your neighbor Jon Smith has brought anything to us- until the police department contacts us to release that information. Some steps you could take to retrieve your items are:
Immediately file a police report.
Check your local flea market, yard sale, etc. (to our knowledge these outlets are not regulated by the state)
You may consider attending a gold party to look for jewelry you are missing.
Put an ad on Craigslist.
Make some flyers for local businesses or residential areas. (this could also help us find your item faster)
Tell your family and friends to keep an eye out for you.
We are people too and we are here to help you - please call us if you have any additional questions.
What's a 30 day hold?
A 30 day hold is a policy every pawn shop in Gainesville has to abide by in order to retain their license. Every item that comes into our store is placed in a "holding pattern" for a month. We cannot resell this item until the time period has expired. This allows the item to clear a national database designed to match any stolen merchandise descriptions together. You are more than welcome to put any items on layaway that are still on the 30 day hold to secure a purchase once the item in released. In the event that the item cannot be sold for any reason, we will fully reimburse your investment.
What is the difference between pawn and retail?
Price. Pawn shops typically sell items, often in new or like new condition, for 1/3 to 1/2 off of the normal retail price.
If I take out a loan for less than you said I could get, can I come back later and borrow more money on the item?
No. Once the loan ticket is written, it cannot be modified until the loan is paid in full. Then you would be able to take out a new loan on the item for up to the maximum loan amount we quoted based on the item's value.
If I can't pay off the loan in time, will I be able to buy back my item? Will I get a discount on it?
If a loan isn't paid by the due date, the item is put out in the store for sale. As long as the item is still in stock, we would be happy to make you a deal so that you can retrieve it.
What kind of warranty or guarantee do you have on the items you sell? What is your return policy?
This isn't an easy question to answer. Since we carry so many different types of merchandise, the warranty and return policy appropriate to each kind of item varies quite a bit. We would be happy to explain the terms that apply to any item that you're interested in.
Can someone else pickup my loan?
Only the person who originally took out the loan can redeem it and pick up the item. However, anyone may make an interest payment for you.
What do I need to bring with me to the store in order to take out a loan?
Your item of value, of course, since all of our loans are based on your collateral. We also require a state issued ID, driver's license, or passport. We cannot accept any other form of ID.
How many items can I pawn?
There is no limit to the number of items we will give you a loan on. As long as we can determine the value of the item, we will give you a loan based on that value.
Are my items be safe while they are kept in your store?
Absolutely! We are licensed by the state, insured, and all people working in the store must pass a background check.
Is there a grace period on making the interest payment or paying off a loan?
Normally, we do not allow a grace period for any payments. However, if there are extraordinary circumstances, such as a serious illness, death, etc., and if arrangements are made with us prior to a 30 day due date, we can arrange for a grace period.
If I buy an item at your store, and I would like to trade it in on something else, can I get a better price for it?
It depends on what the item is and what the value is at the time you are interested in doing the trade. Since the value of some items, such as jewelry, varies a great deal over time, we can't make any guarantees. We are always happy though to try to give deals on most items in the store, so we can definitely work out something for frequent shoppers.